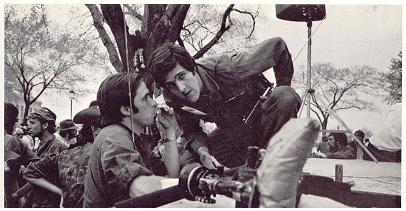 ----------


----------

December 5, 2005 -- Heeeere's Johnny! Yesterday, on CBS News' Face the Nation, former presidential candidate John Kerry (D-Hanoi) reaffirmed the high regard in which he has always held American troops:
"And there is no reason, Bob, that young American soldiers need to be going into homes of Iraqis in the dead of night, terrorizing kids and children, you know, women, breaking sort of the customs of the-of-the historical customs, religious customs." [see the transcript, starting at the bottom of page 4]
Sounds like Kerry is having another involuntary Christmas in Cambodia flashback. Our recommended treatment:
1) put on your lucky CIA infiltrator hat
2) point your finger around the room while saying "Pow! Pow!"
3) make helicopter noises with your lips.
More seriously, isn't 35 years of slandering U.S. troops enough?

At long last, Senator, have you no shame?

----------

November 7, 2005 -- Michelle Malkin has published the transcript of a CNN interview with Ron Harris, the reporter embedded with Jimmy Massey's unit in Iraq who has exposed Massey as a serial liar.

Note: Last month's Associated Press article on Massey did, to the AP's credit, mention that a military investigation into Massey's atrocity stories had found them "unsubstantiated in regards to law or rules of engagement violations."

Perhaps at some point the AP will see fit to mention that the Winter Soldier allegations were also carefully investigated by military authorities, and that they, too, were found to be unsubstantiated.

----------

November 5, 2005 -- Iraq Veterans Against the War co-founder Jimmy Massey, a former Marine Staff Sergeant sent home from Iraq after being diagosed with depression and post-traumatic stress syndrome, has spent the past two years making public statements that he and his fellow Marines were ordered to gun down unarmed Iraqi civilians, including children. He says the U.S. is "committing genocide" in Iraq. Massey's claims have appeared in national media publications including the Associated Press, Vanity Fair and USA Today, and in more explicitly anti-American international outlets such as Italy's Il Manifesto, the World Socialist Web Site, and Al Jazeera.

Now the St. Louis Post-Dispatch has published a pair of articles by Ron Harris that comprehensively debunk Massey's atrocity claims, and raise questions about why his self-contradicting stories were reported uncritically, without even a cursory effort at fact-checking, by so many professional media outlets:
Is Jimmy Massey telling the truth about Iraq?

Why did the press swallow Massey's stories?
False stories of American war crimes, reported as fact by the media. Imagine that...

----------

October 10, 2005 -- Update: The VVLF has just posted its preliminary objections to the Bjornson libel case [885K, PDF]. The filing gets right to the point: "This libel and invasion of privacy lawsuit is part of a continuing, contrived and abusive scheme to squelch speech that lies at the core of our democratic form of government and that deserves the greatest First Amendment protections. This lawsuit should go no further and must be dismissed."

----------

October 9, 2005 -- An interesting flurry of litigation has just been announced by the Vietnam Veterans Legacy Foundation. In August Kenneth Campbell, the VVAW member who sued Stolen Honor producer Carlton Sherwood for libel last year, filed suit against the VVLF and NewsMax magazine. Another VVAW alumnus, one Jon Bjornson, also claims that Stolen Honor defamed him, naming Sherwood, the VVLF and NewsMax as defendants. Both Campbell and Bjornson were participants in the Winter Soldier Investigation.

Now, the POW-led VVLF and Sherwood have filed suit in Federal court against John Kerry and Pennsylvania Kerry campaign coordinator Anthony Podesta for conspiracy and defamation, among other things, in connection with an effort to suppress the broadcasting and distribution of Stolen Honor. The complaint against Kerry [818K, PDF] contains quite a bit of material that will be familiar to WinterSoldier.com readers, and is well worth checking out.

----------

August 24, 2005 -- Check out The Fonda Fallacies, Professor Robert Turner's outstanding analysis of Jane Fonda's new book and her efforts on behalf of Hanoi during the Vietnam War.

----------

August 20, 2005 -- A fascinating government report from 1972 has emerged from the VVAW FBI files. FreeRepublic.com researcher "Fedora" provides valuable background information on the circumstances, individuals and groups the report describes in his Guide to Information Digest Special Report on VVAW. Both the report and the content guide have been added to our Special Features section.

At one point, the report mentions an "ad hoc" hearing held by Senator George McGovern on April 23, 1971, during which he gave several VVAW members the opportunity to trot out their usual unsupported atrocity claims. McGovern characterized these stories as "exactly what the Nazi forces did in occupied territory in Europe during World War II." Whether Senator McGovern went on to complete the full Durbin by expressing his love and respect for America's Nazi-like troops is not recorded in the report.

----------

August 13, 2005 -- "Winter Soldier" was shown before an audience of about 300 last night at the Lincoln Center in New York. A panel discussion followed that featured several of the former VVAW members shown in the film, including Scott Camil and Kenneth Campbell, who is suing Carlton Sherwood, producer of the POW documentary Stolen Honor. A primary purpose of the panel was to introduce Iraq veterans who oppose our efforts there, though they avoided making any allegations about war crimes. No affidavits were signed or presented at the event.

----------

August 9, 2005 -- The New York Times reports that the 1971 documentary of the Winter Soldier Investigation will be shown in theaters in several cities, including at the Lincoln Center in New York. The distributors openly state that their reason for re-releasing the film is to undermine public support for the U.S. military and its mission in Iraq. The Times' fawning coverage makes it clear that the flagship leftist newspaper heartily shares these goals. The Times article never so much as suggests that the atrocity claims in Winter Soldier might have been exaggerated. Instead, it enthuses over the "gentle-sounding, Jesus-like Scott Camil" without bothering to mention Camil's repeated efforts to persuade the VVAW to murder pro-war U.S. Senators. It also overlooks the exposure of VVAW Executive Secretary Al Hubbard as a fraud who was never assigned to Vietnam, the failure of any VVAW members to file legal affidavits supporting their claims, and Winter Soldier Steve Pitkin's own affidavit-backed statement that VVAW leaders pressured him to give false testimony about war crimes.

The Times conspicuously fails to inform its dwindling reader base that military investigators checked out the VVAW's grotesque claims more than 30 years ago, and were completely unable to verify any war crimes. Referring to a Naval Investigative Service report, historian Guenter Lewy noted the VVAW's "use of fake witnesses and the failure to cooperate with military authorities and to provide crucial details..." Army investigators also combed carefully through the Winter Soldier "testimony," identifying 46 incidents that, if true, would qualify as war crimes, and handed them out to local JAG units to investigate individually. None of the investigations resulted in charges being filed. James Reilley, the Lieutenant Colonel responsible for monitoring all war crime investigations conducted by the Army's Criminal Investigation Command between 1971 and 1975, wrote to WinterSoldier.com to describe the VVAW's claims as "slander that demoralized our forces, eroded our resolve, and gave aid and comfort to our enemy."

So, how will this 1971 exercise in anti-military propaganda play in 2005? True believers on the left -- those who have internalized the lie that America's presence in the world is a force for evil, and that U.S. military efforts are characterized by wanton brutality -- can be expected to revel in the VVAW's discredited stories. But will newcomers to the strange world of the winter soldiers believe these radicals from the past?

That depends on whether their only source of information is the New York Times...

----------

July 15, 2005 -- The Vietnam Veterans Legacy Foundation has set up a legal fund to defend Carlton Sherwood, creator of the Stolen Honor documentary, from a lawsuit filed last fall by former VVAW member Kenneth Campbell, who appeared at the Winter Soldier Investigation with some unlikely claims about shelling peaceful villages in Vietnam. Now Campbell thinks that Stolen Honor has defamed his good reputation by suggesting he isn't the war criminal he claimed to be.

Swift Vet John O'Neill has written a letter asking the public to support Carlton's legal defense, and Carlton's own appeal adds more detail about the lawsuit.

----------

July 6, 2005 -- Added Did the KGB use John Kerry? to Special Features.

Researcher Max Friedman analyzes Kerry's Vietnam-era connections to Abe Feinglass and other American communists who appear to have been working on behalf of the Soviet Union.

----------

June 22, 2005 -- Senator Dick Durbin apologized today, more or less, for comparing American prisons for terrorists at Guantanamo Bay to the Nazi death camps and the Soviet gulag on June 14. He had little alternative; the firestorm of outrage over his ludicrous statement wasn't going away.

Here's some good reading on Durbin's "Genghis Khan" moment:

Durbin: Costly Slander, Cheap Redemption -- Scott Swett, Vietnam Veterans Legacy Foundation, June 22
What Could Be Worse Than Gitmo? -- George H. Wittman, American Spectator, June 21
Same Lies, Different War -- Bruce Kesler, FrontPage Magazine, June 20
Atrocious Analogy -- Mark Steyn, Washington Times, June 20

----------

June 16, 2005 -- Most media outlets passed over John Kerry's latest attempt to convince the public that his military records are public, other than to note the minor revelation of Kerry mediocre grades at Yale. A few, however, took the opportunity to pretend that Kerry's "signing" of Form 180 somehow discredits the charges made against him by the Swift Vets and POWs for Truth and other groups. This requires ignoring the gaping holes punched in Kerry's story last year, including his absurd claim to have spent Christmas of 1968 illegally fighting the Khmer Rouge in Cambodia, the "No Man Left Behind" canard of a heroic rescue under nonexistent machine gun fire, the accidental injuries for which he acquired his Purple Hearts, and so on, but Kerry's media defenders are up to the task. Newsday's Character lessons from the Kerry smear is a particularly egregious example.

Mary Jane McManus of the Vietnam Veterans Legacy Foundation has responded to the Newsday article, reminding us of a few things the old media would just as soon forget.

----------

June 10, 2005 -- In an effort to deflect criticism about his failure to authorize the complete release of his military records, John Kerry recently signed the long-awaited Form 180. Naturally, there are nuances and caveats. The actual form Kerry signed isn't available. The military records were released to the Boston Globe, not to the public. And the documents seem to have come from the Navy, not from the National Personnel Records Center in St. Louis. Records that would show the status of Kerry's original discharge from the Navy remain hidden.

This isn't going to solve John Kerry's document problem, no matter how fervently the Senator and his friends at the Boston Globe wish it were so. For those of you keeping score at home, here are some of the key articles:

Did Kerry really release Navy records? -- Thomas Lipscomb, Chicago Sun-Times, June 9
Kerry Hangs Back From Disclosure to All -- Josh Gerstein, New York Sun, June 9
Critics charge Kerry still covering up -- WorldNetDaily, June 8
On the mixed-up files of John Kerry -- PowerLine, June 8
Kerry Allows Navy Release of Military, Medical Records -- Boston Globe, June 6

----------

April 29, 2005 -- A group of highly decorated former POWs who played an active role in the Swift Vets and POWs for Truth have formed a new organization, the Vietnam Veterans Legacy Foundation. The new organization is led by Medal of Honor recipient Bud Day, and includes former POWs Ken Cordier, Paul Galanti, and James Warner. The VVLF intends to develop a national repository of Vietnam-related materials, information and records, and to counter and expose false information about the Vietnam War that appears in the media.

Here's what Col. Day had to say in the press release:

"The false history of Vietnam has been used to demoralize our troops in combat, undermine the public's confidence in U.S. foreign policy and weaken our national security. Radical leftists such as Jane Fonda lied about the war 35 years ago, and are still lying about it today. The goal of the VVLF is to continue the work of countering more than three decades of misinformation and propaganda, and to set the record straight."

----------

April 27, 2005 -- Added the complete transcript of the Winter Soldier Investigation. The only other transcript available online, at the leftist 60's Project, has missing text and broken links.

----------

February 11, 2005 -- CNN chief news executive Eason Jordan resigned today after a two-week online firestorm ignited by his statement at the World Economic Forum that the U.S. military intentionally murders journalists in Iraq. Jordan must miss the good old days when left-leaning media mavens could slander American troops with impunity.

It's a shame we didn't have the Internet in 1965. Vietnam might well be free today.

----------

February 7, 2005 -- Senator John F. Kerry (D-Cambodia) told radio host Don Imus this morning that he will "absolutely" sign the long overdue SF-180 to release his military records. Then he added some qualifications. Asked why he couldn't just sign the form today, Kerry replied, "Because I have a stack of different material they sent me. Every time they send me something I want to know what they sent me."

Signing the 180 would release Kerry's records to the public, which of course has nothing to do with what materials Kerry might possess. Still, profound concern about the contents of those records can be seen peeking out from behind the Senator's semantic evasions. This begins to sound like a job for Sandy Berger and Dan Rather.

The most logical explanation is that Kerry's steadfast support of the Vietnamese communists earned him a less-than-honorable discharge from the Naval Reserve, an administrative action that probably included the loss of his medals and the revocation of his security clearance.

Kerry's Discharge Is Questioned by an Ex-JAG Officer - Thomas Lipscomb
The Truth Behind Kerry's Military Discharge. What's What's Kerry Hiding? - Robert "Buzz" Patterson
Ex-Navy sec to Kerry: Open up your records - Art Moore

----------

February 2, 2005 -- After ducking the question twice, Senator Kerry agreed last Sunday on Meet the Press to sign the now-legendary Standard Form 180 authorizing the complete release of his military records.

On the other hand, he didn't say when.

----------

January 24, 2005 -- A new site called KerrysTreason.com is investigating the possibility of legal action against Senator John Kerry "for giving aid and comfort to our enemies during a time of war and acts of treason he committed while a United States Navy Reservist."

----------

January 10, 2005 -- The National Press Club in Washington is the improbable location of a John Kerry Un-auguration Celebration on January 20, from 11am to 4pm. The event will recognize some of the veterans and their supporters who helped prevent the aforementioned Senator Kerry from becoming Commander-in-Chief. Honorees who will be present include Dr. Jerry Corsi, co-author of Unfit for Command, Carlton Sherwood, director and producer of Stolen Honor, Jug Burkett, author of Stolen Valor, and Larry Bailey, leader of Vietnam Vets for the Truth. Here's the press release.

With only 200 tickets available, this event should fill up fast. Contact Lou Priebe at priebe@erols.com to register.

----------

December 19, 2004 -- Bruce Kesler's new article The revolt of the Vietnam veterans does a nice job of analyzing the recent campaign, particularly the failed attempt of the old media to marginalize the anti-Kerry vets as Republican operatives.

----------

December 10, 2004 -- Added The Last Battle of the Vietnam War to Special Features. Rich Webster looks at how Kerry lost the support of America's veterans, despite the best efforts of the old media.

----------

November 23, 2004 -- Added Checks, Lies & Video Tape to Special Features. Jeff Epstein reviews some key events of the anti-Kerry campaign.

----------

November 18, 2004 -- Added They Served Twice: the return of the Vietnam Vets to Special Features. Scott Swett sums up the veterans' revolt against John Kerry.

----------

November 12, 2004 -- Yes, but what if he won't go away? Jerry Corsi proposes a "time capsule" solution to a possible 2008 run by the VVAW's former spokesman in John Kerry... the gift that keeps on giving?

----------

November 10, 2004 -- Added Final Thoughts On This Election to Special Features. Former Army Intelligence officer Frank Hawkins discusses what was really at stake on November 2.

----------

November 6, 2004 -- Okay, we're back. John Kerry will never be America's commander-in-chief, but the battle to vindicate those who served in Vietnam proceeds. WinterSoldier.com will continue to be a part of that effort, albeit at a somewhat more leisurely pace than before. A consensus seems to be emerging among Vietnam vets and those who support them that defending today's troops from VVAW-style smear campaigns should also be a priority.

Setting the record straight about the Vietnam War requires a solid understanding of what happened and why. The Boston Manifesto is an excellent place to start. See also The Making of the Boston Manifesto for an overview of what the Manifesto is and how it came to be. As for the current effort to undermine America's troops and their mission, check out Veterans Against the Iraq War.

----------

November 1, 2004 -- Check out Kerry's Discharge Is Questioned by an Ex-JAG Officer by Thomas Lipscomb, who has tracked down a source confirming that Kerry's discharge status kept him out of Harvard Law School. No comment from the Kerry campaign.

WorldNetDaily now reports that former Secretary of the Navy William Middendorf vouches for Mark Sullivan, the JAG officer cited above, and thinks Kerry should release his Naval records. Mr. Middendorf took care to mention that the Privacy Act prevents him from commenting specifically on the status of Kerry's discharge.

Sounds like a pretty big hint to us...

----------

October 31, 2004 -- Added To My Fellow Americans to Special Features. Medal of Honor winner Lewis Millett served in World War II, Korea, and Vietnam. He writes to express deep concerns about John Kerry's character, his past actions, and his claim to represent Vietnam veterans.

----------

October 30, 2004 -- Added Why Vietnamese-Americans Will Not Vote For Senator Kerry to Special Features. Nam Pham discusses John Kerry's ongoing cooperation with the Vietnamese communist regime, and how that regime continues to abuse the Vietnamese people.

Check out Unfit to Lead, a new Kerry documentary hosted by John O'Neill.

Added new letters and responses to Incoming.

----------

October 28, 2004 -- Added John Kerry's Other Medals to Documents, Film Clips, Audio and Cartoons.

----------

October 26, 2004 -- **BREAKING** Two newly discovered documents captured in 1971 show that the Vietnamese communists guided the American antiwar movement via meetings between the communist delegations to the Paris Peace talks and American antiwar activists. John Kerry and the VVAW were working toward the exact goals set forth in the communist directives. Read the whole story in John Kerry and the VVAW: Hanoi's American Puppets? by Dr. Jerome Corsi and Scott Swett.

Added new letters and responses to Incoming.

----------

October 24, 2004 -- WorldNetDaily reports that Communist officials in Vietnam ordered the photograph of John Kerry in the War Remnants Museum in Ho Chi Minh City taken down last month, and that the museum has now redisplayed it in a different location. The photo shows Senator Kerry in 1993 meeting with Do Muoi, Secretary General of the Vietnamese Communist Party. WinterSoldier.com broke the museum photo story on May 31, documenting the photograph's original location in a hall honoring foreign activists who helped Hanoi defeat the U.S.

For details, see Kerry Honored by Vietnamese Communists and Kerry Museum Photo Documented.

The Vietnamese communists may not be quite sure of the best way to support John Kerry, but there's little doubt of their willingness to try...

----------

Added Open letter to Vietnamese-Americans, Vietnam and other Veterans to Special Features. Former POW Mike Benge speaks out on the real war criminals of the Vietnam War, and the support they received from John Kerry.

----------

October 23, 2004 -- 356 Special Forces Vietnam veterans have signed an open letter stating their view that John Kerry is "unfit to be our Commander-in-Chief or to lead our nation as President." Only 12 of those contacted declined to sign the letter.

----------

October 21, 2004 -- Added The Speech John O'Neill Wasn't Allowed to Give to Special Features. In April of 1971, Swift boat veteran John O'Neill wrote a powerful rebuttal to John Kerry's Senate testimony, but never had the chance to present it. Researcher Max Friedman tells the story that Congress and the media tried to bury.

----------

October 19, 2004 -- Now available from Human Events Online: Advantage Swift Vets, a new online-only epilogue to John O'Neill and Jerome Corsi's monster best-seller Unfit for Command. The new chapter shows how well the book has held up under intense scrutiny -- unlike the ever-changing claims of the Kerry campaign. It also outlines the disgraceful media coverage of the book and the Swift Vets, and tells Steve Pitkin's story.

----------

October 17, 2004 -- Added Army Investigator: Kerry Lied About War Crimes to Special Features. From Dec. 1971 to Jan. 1975 Lt Col James Reilley was responsible for monitoring all war crime investigations conducted by the U.S. Army's Criminal Investigation Division. He reports that the Winter Soldier claims were baseless, and that overall, war crimes were few and none were authorized by the chain of command.

----------

October 15, 2004 -- A number of readers have expressed interest in discussing the issues raised at this site online. We recommend the new WinterSoldier and VVAW leadership forum that recently opened at SwiftVets.com. Of particular interest are this reference index and a list of key far-left Kerry supporters that includes several former VVAW members.

Added letters and responses to Incoming.

----------

October 12, 2004 -- Added Hanoi John: Kerry and the Antiwar MovementCB"C"bB,C"bB"s Communist Connections to Special Features. In this meticulously documented article, FreeRepublic.com poster Fedora analyzes the complex network of connections between John Kerry and the communist organizations and leaders of the antiwar movement.

----------

October 11, 2004 -- The Jerry Corsi Radio Death March continues with multiple on-air interviews this week -- see the Media Appearances sidebar for details.

----------

October 8, 2004 -- Dr. Jerry Corsi now has a regular weekly column at WorldNetDaily.com. Don't miss his first two articles, John Kerry and the politics of betrayal and John Kerry's secret meeting with the enemy. You can also hear Jerry online tonight at 5pm Eastern on "5 Alive" with Johnny Brooks.

----------

October 6, 2004 -- Added Kerry Lied, And So Did I... to Special Features. Steve Pitkin, former member of Vietnam Veterans Against the War, tells in his own words how John Kerry pressured him to give false testimony about war crimes at the Winter Soldier Investigation, and about his recent opportunity to apologize to Vietnam veterans.

Added letters and responses to Incoming.

----------

October 2, 2004 -- WinterSoldier.com was recently mentioned -- sort of -- in a front page Wall Street Journal article [subscription only] on Vietnam Veterans Against the War. Unfortunately, it's a one-sided puff piece that avoids any hint that the VVAW's atrocity claims might have been exaggerated. Also omitted: the November 1971 summit meeting at which the VVAW voted on whether or not to assassinate pro-war Senators, Executive Secretary Al Hubbard's exposure as a fraud, the absence of independent confirmation of any of the Winter Soldier war crimes charges, the unwillingness of any VVAW members to file legal affidavits supporting their claims, and Steve Pitkin's own affidavit-backed statement that John Kerry pressured him to give false testimony about war crimes.

When contacted by author Bob Davis, we suggested that the VVAW bears considerable responsibility for the communist genocide that followed America's withdrawal from Vietnam. Needless to say, no mention of that genocide appeared in the final article. Davis also misrepresented our own effort as "a Web site... that challenges VVAW's claims that U.S. soldiers committed atrocities in Vietnam." Our actual position, which we expressed clearly to Davis, is that atrocities existed but were rare.

Mr. Davis took care to avoid naming WinterSoldier.com directly. Perhaps it occurred to him that his readers might look over the site, then wonder why so many salient facts about the VVAW are missing from his article.

On the other hand, perhaps we shouldn't complain. This is precisely the sort of agenda-driven "journalism" that brings people online looking for the rest of the story...

----------

September 29, 2004 -- Added John F. Kerry -- the Real Manchurian Candidate to Special Features. Vietnam veteran Rich Webster notes some similarities between the classic espionage film's Sergeant Raymond Shaw and Lt.(jg) John Kerry.

----------

September 27, 2004 -- The New Soldier by John Kerry and Vietnam Veterans Against the War is available for free download in .pdf format at FreeKerryBook.com.

----------

September 25, 2004 -- Winter Soldier participant Scott Camil recently filed an affidavit in Florida. It notes Camil's service in Vietnam and disputes Steve Pitkin's claim to have met Camil in Catonsville, MD and travelled with Camil to the Winter Soldier Investigation in 1971. No argument there; Pitkin independently realized his mistake after seeing video of Camil and corrected his own affidavit some 10 days ago.

The most interesting thing about Camil's affidavit is what it doesn't say. It doesn't take issue with Pitkin's statement that he was pressured by John Kerry and others to testify falsely about atrocities at the Winter Soldier Investigation, nor does it attest to any atrocities seen or committed by Camil himself. At WSI, Camil spoke of "the burning of villages with civilians in them, the cutting off of ears, cutting off of heads, torturing of prisoners, calling in of artillery on villages for games, corpsmen killing wounded prisoners, napalm dropped on villages, women being raped, women and children being massacred..." Camil went on to say, "I saw one case where a woman was shot by a sniper, one of our snipers. When we got up to her she was asking for water. And the Lt. said to kill her. So he ripped off her clothes, they stabbed her in both breasts, they spread-eagled her and shoved an E- tool up her vagina, an entrenching tool, and she was still asking for water. And then they took that out and they used a tree limb and then she was shot."

More than 33 years after the Winter Soldier Investigation, Scott Camil finally files a legal affidavit, but all he has to say is, "I didn't ride to Detroit with Steve Pitkin." Fine. Now then, what about all those "atrocities?"

----------

September 20, 2004 -- Published another stack of letters and responses in Incoming.

----------

September 18, 2004 -- Added Kerry's Testimony Speaks Volumes to Special Features. John Kerry listed the following as evidence of American war crimes before the Senate: free fire zones, harassment interdiction fire, search and destroy missions, and the use of .50 caliber weapons. Operation Iraqi Freedom veteran Cory Genelin analyzes what these terms actually mean.

----------

September 17, 2004 -- The complete Kerry Lied Rally is now available in streaming video from C-SPAN.

Note: C-SPAN videos require RealPlayer.

----------

September 16, 2004 -- Updated Yesterday's Lies: Steve Pitkin and the Winter Soldiers with links to the transcript and video clip of Steve Pitkin's remarks on September 12th at the Kerry Lied Rally in Washington.

Recommended at OperationMom.org: the slideshow To Our Parents, a tribute from the children of Vietnam veterans.

----------

September 15, 2004 -- Writing in the National Review, Anne Morse reminds us that the 60 Minutes document forgery scandal is hardly the first bogus Dan Rather report. The year was 1988, and the topic was -- you guessed it -- American atrocities in Vietnam. "CBS Report: The Wall Within" introduced us to one Terry Bradley, a "fighting sergeant" who told Rather he had skinned 50 Vietnamese men, women, and children alive and stacked their bodies in piles. Stolen Valor author B.G. Burkett found that Bradley was an ammunition handler, had served prison time for going AWOL, and never saw combat. All this and more, in The First Rathergate.

----------

September 13, 2004 -- Added The Wounds That Never Heal: A Vietnam Veteran's Perspective on John Kerry's Vietnam to Special Features. Dexter Lehtinen gave a shorter version of this powerful speech at the Kerry Lied Rally in Washington on September 12. This is the original, delivered at a fundraising dinner for the rally three weeks earlier in Connecticut.

----------

September 11, 2004 -- WinterSoldier.com has learned that the Kerry Lied Rally will be broadcast live by C-SPAN. The event is scheduled from 2:00 - 4:00 pm Sunday, September 12 at the Upper Senate Park in Washington, D.C. John O'Neill will speak, and Steve Pitkin has just confirmed that he will say a few words as well.

It appears that the revolution will be televised after all...

----------

September 6, 2004 -- **BREAKING** In Yesterday's Lies: Steve Pitkin and the Winter Soldiers, Scott Swett tells the story of a former VVAW member and participant in the Winter Soldier Investigation who states that John Kerry and others pressured him to give false testimony about American atrocities in Vietnam.

After more than 33 years, Pitkin is the first Winter Soldier "witness" to file a legal affidavit regarding that event...

----------

September 4, 2004 -- Check out StolenHonor.com to learn how John Kerry's "war crimes" claims affected the treatment of American soldiers and POWs during the Vietnam era. StolenHonor has created a video documentary featuring interviews with POWs, and a number of sample clips are now available.

Added letters and responses to Incoming.

----------

September 3, 2004 -- Vietnam Vets for the Truth, organizers of the Kerry Lied Rally on September 12, will hold a news conference at the National Press Club in Washington at 9:30 am September 7 to announce the agenda and speakers for the national rally.

----------

Go to Page 4 of "What's New"


Last Updated Friday, March 14 2008 @ 04:58 PM MDT; 7,348 Hits