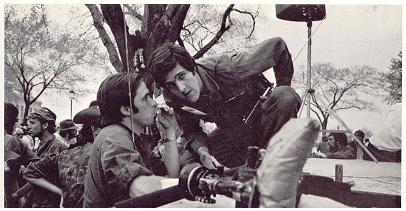 ----------


----------

November 2, 2006 -- One day after vowing that he would never apologize for his "stuck in Iraq" gaffe, John Kerry posted a limp statement on his blog, expressing "regret that my words were misinterpreted." Kerry is always happy to trash the troops in person, but his "apologies" are delivered third-hand. The Senator has now cancelled all his scheduled campaign appearances and is rumored to be holed up in a bunker somewhere near Boston.

----------

October 31, 2006 -- Strongly recommended: Triumph Forsaken: the Vietnam War, 1954-1965. The first volume of a planned two-part history, Dr. Mark Moyar's meticulously researched new book draws on primary sources to refute several elements of the "standard" historical consensus on the war, including the claim that Ho Chi Minh was primarily a nationalist rather than an international communist.

The October 29 book launch was filmed by C-Span. It should be broadcast on Book TV the weekend of Nov. 11-12.

----------

Smearing the troops update: John Kerry is defending his "you'll get stuck in Iraq" remark, which he now claims was really aimed at President Bush. Yeah, that's the ticket. Or maybe he had another Vietnam flashback, and forgot that there is no longer a draft. Once again Kerry finds himself up a creek, somewhere near Cambodia, paddling like mad...

----------

October 30, 2006 -- John Kerry's barely-concealed contempt for American troops was on display today, as he told college students to get a good education or risk serving their country:
"You know, education, if you make the most of it, if you study hard and you do your homework, and you make an effort to be smart, uh, you, you can do well. If you don't, you get stuck in Iraq."
Radio host John Ziegler of KFI in Los Angeles has the audio.

----------

October 29, 2006 -- Veteran R.J. Del Vecchio returned to Vietnam earlier this year. What he saw there motivated him to start a charity for disabled South Vietnamese veterans and their families.

Read Light One Candle for more on Del's valuable work.

----------

October 20, 2006 -- John O'Neill, lead spokesman for the Swift Vets and POWs for Truth, recalls the election of 1974, a Democratic landslide in the wake of Nixon's resignation that led directly to the communist genocide in Indochina. O'Neill argues against repeating this mistake in the coming mid-term elections.
In the spring of 1975, I watched in horror our refusal to aid our South Vietnamese friends and their collapse. I watched our friends die by the millions in the gulags of Cambodia and Laos and in frenzied attempts to escape on the high seas, and I remembered my friends, who died in Vietnam, and whose sacrifice was so casually discarded by the "Watergate Babies." I lost faith in the United States for many years.

I wonder now if we are so blind and ignorant of history to actually allow a new crop of "Watergate Babies" to install clearly unfit leaders such as Nancy Pelosi (D.-Calif.), John Conyers (D.-Mich.), and impeached Alcee Hastings (D.-Fla.) as the guiding force in our nation. Considering that a Democratic win could mean the rise of John Murtha (D.-Pa.) from Abscam to majority leader, and Hastings from impeached federal judge to House Intelligence chairman, it is no exaggeration to say both parties have bad actors. The distinction is that the Democrats promote them and the Republicans fire them.

Finally, I wonder if voters (like those in 1974) are going to actually vote for the betrayal of our Iraqi and Afghan allies and the sacrifices of our troops. I wonder if our Iraq War veterans will watch the mass execution or flight of those who fought with them and believed in us. If so, history teaches us that in the end we will suffer terribly ourselves. This is particularly true here, where we face adversaries who have said they will not stop at the waters' edge but have already reached across the ocean to destroy our nation's largest buildings and thousands of our people.
----------

October 18, 2006 -- The Vietnam Veterans Legacy Foundation has filed new lawsuits against two associates of Sen. John Kerry, both of whom testified at the Winter Soldier Investigation. VVLF Chairman George "Bud" Day hopes the litigation will reveal the truth about the war crimes charges Kerry used to launch his political career.

Read more at the VVLF web site.

----------

October 12, 2006 -- Senator Kerry appears to be gearing up for another presidential bid. This follows on the heels of Kerry's recent bellicose pronouncement that he is prepared to kick the asses of the Swift Vets and POWs for Truth "from one end of the country to the other."

No doubt there are people who take John Kerry seriously. We, however, are not among them.

----------

October 4, 2006 -- The newest addition to our Special Features section is Godspeed and Welcome Home. Former Army criminal investigator James Reilley reports on a unique ceremony in which veterans of earlier conflicts pay respect to American troops as they transit to and from the combat zones.

Reilley is also the author of an earlier WS.com feature, Army Investigator: Kerry Lied About War Crimes.

----------

September 28, 2006 -- The Vietnam Veterans Legacy Foundation has just made available the first online collection of Jane Fonda's 1972 broadcasts on Radio Hanoi. The 19-transcript collection provides fascinating reading for anyone interested in leftist propaganda techniques. Here are some of Hanoi Jane's classic anti-military / anti U.S. rants:
To American POWs: "Brave heroes of the war would come back from Indochina and I was told that it is we who committed crimes, it is we who burned villages and massacred civilian people and raped the Vietnamese women. It is we who did it and we are sorry, and we want the Amer1can people to know what is being done in their names."

To American pilots: "The men who are ordering you to use these weapons are war criminals according to international law, and in, in the past, in Germany and in Japan, men who were guilty of these kind of crimes were tried and executed."

To South Vietnamese students: "We have understood that we have a common enemy -- U.S. imperialism. We have understood that we have a common struggle and that your victory will be the victory of the American people and all peace-loving people around the world."

On women in the U.S. military: "I heard horrifying stories about the treatment of women in the U.S. military. So many women said to me that one of the first things that happens to them when they enter the service is that they are taken to see the company psychiatrist and they are given a little lecture which is made very clear to them that they are there to service the men."
----------

August 26, 2006 -- Scott Swett's recent article Still Slandering the Troops has been republished by FrontPageMagazine.com and by The New Media Journal.

----------

August 15, 2006 -- The Los Angeles Times recently published a long article arguing that U.S. war crimes were commonplace in Vietnam. The recent flurry of old media articles aimed at propping up John Kerry's discredited atrocity stories and tales of combat heroism leaves little doubt that Kerry plans to give it another shot in 2008.

Two new articles in our Special Features section rebut the Times' latest attempt at Kerryhabilitation:
Still Slandering the Troops, by Scott Swett, and

The L.A. Times' Recent "War Crimes" Reporting: Does It Say What They Claim It Says?, by John Boyle.
Also see Who Is Nick Turse?, in which blogger David Paulin traces the radical history of "Comrade Turse," the co-author of the L.A. Times article:
So extreme is his anti-Americanism that Turse even praised the Columbine shooters. To Turse, they were idealistic anti-establishment figures; kids who challenged the "educational system" in the spirit of the 1960s' radicals.
----------

August 10, 2006 -- Vets For The Truth is hosting a rally to oppose Rep. John Murtha rally Cambria County War Memorial Arena, in Murtha's hometown of Johnstown, Pennsylvania on Oct. 1st at 2:00 p.m. VFTT's "Boot Murtha" effort has gathered enough momentum to concern the leftists at MoveOn.org, who are trying to raise $500,000 for a TV ad campaign in support of the troop-slandering Congressman.

----------

August 4, 2006 -- A U.S. District judge in Philadelphia has dismissed the lawsuit filed by the Vietnam Veterans Legacy Foundation and Stolen Honor director Carlton Sherwood against John Kerry and Anthony Podesta.

----------

July 14, 2006 -- Just as the Vietnam Veterans Legacy Foundation attorneys were preparing to depose key VVAW "winter soldiers" to ask them about all those war crimes, the VVAW's Kenneth Campbell has abruptly dropped his twin lawsuits against the VVLF and Stolen Honor producer Carlton Sherwood. VVLF attorney Robert Clothier thinks the surprise decision "suggests a great trepidation about what would come out at the depositions." No kidding.

Perhaps the VVLF's lawsuit against John Kerry and Anthony Podesta will prove more successful at getting a few of these "winter weasels" on the record, under oath.

See Still Battling by Shannon P. Duffy of The Legal Intelligencer Online for all the details.

----------

July 8, 2006 -- Here's a stark look into the lives of some American troops fighting in Iraq. It appears that they don't have great regard for the antiwar movement back home. Warning: not for the easily offended.

Young Americans Trailer and Video Clips by Pat Dollard.

----------

June 16, 2006 -- Al Qaeda in Iraq planning documents captured after the U.S. air strike that killed Abu Musab al Zarqawi provide interesting insights into the thinking of the terrorist leadership. Though increasingly pessimistic about the prospects for AQ in Iraq, Zarqawi and company hoped to undermine support for U.S. efforts by creating false rumors of widespread American atrocities, backed up by plausible supporting material.

Now, where do you suppose they got that idea?

----------

June 12, 2006 -- The New York Times recently announced, nay, endorsed, an effort by John Kerry and his remaining supporters to discredit the Swift Vet meanies who blew such large holes in his "war hero" image two years ago. Alas, uncritical puffery is less convincing than actual investigative journalism. Tom Lipscomb provides a fine example of the latter in his analysis of the new Kerry/Times claims. Among other things, Lipscomb shows how much damage you can do to Kerry's credibility just by collecting his accounts of a given event and listing them in a row.
Kerry Pressing Swift Boat Case Long After Loss -- Kate Zernike, New York Times, May 28, 2006.

The Truth, John Kerry, and The New York Times -- Thomas Lipscomb, Real Clear Politics, June 5, 2006.

John Kerry's Skimmer Scam -- Thomas Lipscomb, Real Clear Politics, June 12, 2006.
Current score: Lipscomb 2, Kerry/Times zip...

----------

June 6, 2006 -- Don't miss Vietnam, After All? in which noted military historian Victor Davis Hanson dissects the leftist effort to turn Iraq into "another Vietnam" and shows where that effort might lead:
So by all means investigate Haditha. Try and convict any who broke the rules of war, and sullied the honor of the U.S. Marine Corps.

But please spare us the scripted outrage that is simply cheap cover for wanting Iraq to end as Vietnam, as there appear ten stories on Haditha for every one about either an American victory over terrorists or help for Iraqi civilians. Any true moralist who cares for the Iraqi people should pray that this war doesn't devolve into helicopters on the embassy roof; followed by the old predictable liberal silence when the real killing begins.
----------

June 5, 2006 -- In Whitewashing North Vietnamese War Crimes, former POW Mike Benge rejects columnist Georgie Anne Geyer's claim that the Geneva Accords were "generally observed" by the North Vietnamese and the Viet Cong.

Updates added to Incoming, our "letters to the editor" section.

----------

June 2, 2006 -- Thanks to Carlton Sherwood for pointing out a fine article on the re-release of the Winter Soldier documentary that we somehow missed: Winter Soldiers Never Die. As author David Holman astutely notes:
Like the investigation depicted, the purpose of showing Winter Soldier wasn't actually to investigate and prosecute war crimes. It was to show that atrocities are commonplace, part and parcel with war per se. In this telling, war criminals are victims of war, morally equivalent to everyone involved: civilian leaders, military leaders, our troops, and enemy troops.
We prefer to look at the bright side -- maybe some of the people who go see the VVAW's grainy propaganda film will be curious enough to search for "winter soldier" online.

----------

May 31, 2006 -- Faux Iraq vet Jesse MacBeth's DD-214 shows that he washed out of the Army in boot camp, and was therefore never a Ranger, never in Special Forces, and never in Iraq. Sic Transit Jesse...

----------

May 24, 2006 -- SocialistAlternative.org's clueless interview of Jesse MacBeth (linked below) seems to have mysteriously vanished. In the interest of historical accuracy, we've preserved a copy here.

Our favorite part is when Special Ranger Jesse says he's going to be "one of the leaders of the revolution."

----------

May 23, 2006 -- You may recall Jimmy Massey, the Iraq Veterans Against the War co-founder whose lies about American "genocide" in Iraq were exposed last November. Following in Massey's twisted footsteps comes another IVAW fraud, Jesse MacBeth, a "Special Forces Ranger" who was recently interviewed by SocialistAlternative.org:
Q: What did your division do?

I was in the Third Ranger Battalion. Our job was to strike fear in the hearts of the Iraqi people.

We would go into people's houses and plow down entire families. We would interrogate people. If we didn't like the answers that they gave, then we would kill the youngest child. If they gave more answers that we didn't like, then we'd move on to the rest of the family. They could've been innocent people.

We would leave the bodies in the streets and blame it on the Shi'ites or the Sunnis. [In Fallujah] we were ordered to go into mosques and slaughter people while they were praying. I won't go into full detail because I'm still haunted by the memories.
MacBeth's story quickly fell apart under scrutiny from various blogs, including Black Five and Protein Wisdom. Just Citizens asked the Army to check out MacBeth's military credentials. Spokesman John Boyce replied that MacBeth had never been assigned to either the Special Forces or the Army Rangers, and that no Army soldier of that name had been assigned to Ft. Lewis. Boyce also pointed out a number of discrepancies in his uniform and insignia, and observed that "the allegations of war crimes are vague." -- Yes, that's how it's traditionally done.

It turns out that MacBeth was protesting at a coffee house when he was supposed to have been fighting in Fallujah, and he is now working at a Wendy's in Washington state. Irritated military bloggers are checking into whether MacBeth, who was convicted in 2004 of credit card fraud in Arizona, is currently in violation of his probation.

No word yet on whether Jesse MacBeth is considering a career in politics.

Update: There appears to be a bench warrant out for MacBeth's arrest.

----------

May 18, 2006 -- Democratic Rep. John Murtha claimed yesterday that U.S. Marines "killed innocent civilians in cold blood" last November in Iraq. Military officials refused to comment, since the event is still being investigated.

The situation in Iraq has been improving steadily for months, and the country now stands on the verge of forming a new government. So why didn't Rep. Murtha just wait for the military to complete its investigation?

Diana Irey, who is challenging Murtha for his Pennsylvania Congressional seat, had this to say:
There is no doubt that my opponent's disregard for the presumption of innocence and Due Process will have an adverse effect on troop morale. Unfortunately, instead of showing support for our military personnel, his partisan rhetoric will only harm our country at this fragile time. His continued comments are a devastating blow to millions of men, women and children in the Middle East who are just getting their first taste of Democracy.
Precisely. That's why he made them.

----------

May 11, 2006 -- The University of Texas at Arlington has taken down all 123 national flags, including the flag of communist Vietnam, from the engineering school's "hall of flags." UTA issued the following statement by President James Spaniolo, which repeatedly emphasized the school's commitment to celebrating and embracing "diversity." In fact, Mr. Spaniolo plans to form a committee...

Unmentioned by Mr. Spaniolo is that his change of heart followed meetings with several elected officials who proposed to reduce UTA's funding if the flag remained on display. Kudos to the Texas legislators who made this happen, including Toby Goodman, Chris Harris, Hubert Vo, Bill Zedler and Anna Mowery.

More details are available here.

----------

May 5, 2006 -- Ever wonder how Sen. Edward Kennedy deals with the fact that his tireless efforts to cut off all U.S. support for South Vietnam led directly to the slaughter of vast numbers of human beings? Simple -- he lies.

Asked by Tim Russert on "Meet the Press" whether the U.S. military should return to Iraq after drawing down if a civil war seemed imminent, Kennedy had this to say:
"I heard the same kinds of suggestions at the time of the end of the Vietnam War. The 'Great Bloodbath,' we're going to have over 100,000 people that were going to be murdered and killed at that time."
The actual count of those murdered by the communists in Southeast Asia was in the millions. Hundreds of thousands more tried to escape from South Vietnam in small boats and were drowned. Kennedy is aware of this, of course, but admitting the truth would be politically inconvenient.

An old saying identifies three kinds of falsehoods: lies, damned lies, and statistics. Sen. Kennedy has managed to combine all three in a single contemptible statement.

More on the topic from Larry Elder: Ted Kennedy - peace criminal?

----------

May 1, 2006 -- As you probably didn't see on the network news, some 5,000 people, mostly Vietnamese Americans, protested yesterday against the display of the Vietnamese communist flag by the University of Texas. A post at VietPage.com explains why:
To Vietnamese Americans, the Vietnamese Communist flag is a reminder of death. It is a blood-reeking flag under which some three and half million Vietnamese lives have been sacrificed for the war-mongering goals of the Communist Party of Vietnam (CPV) as proclaimed in Hanoi's national anthem, "Forward, Soldiers!" which says in part: "We swear to tear our enemies apart and drink their blood!"

Most Vietnamese Americans, having fled persecution and reprisals, find the display of the "yellow star on red background" flag insulting, offensive, and culturally insensitive. It is like flying the swastika flag of Nazi Germany in the presence of Jewish-Americans.
The demonstrators re-enacted atrocities committed by communists against the South Vietnamese people after the fall of Saigon, and vowed to continue their protests as long as the offending flag flies. So far, the University is refusing to take down the flag. The reason? Twelve current UTA students are from Socialist Republic of Vietnam.

Perhaps the University of Texas could use a little sensitivity training...

----------

April 30, 2006 -- Dr. Bob Turner has a fine article in today's Washington Times: Lessons for Iraq. Dr. Turner points out disturbing similarities between the Vietnam and Iraq conflicts, both on the battlefield and on Capitol Hill. Members of Congress strongly supported military action in both cases, then later pretended to have done no such thing.

----------

April 24, 2006 -- CBS News just published an amazing puff piece that positions John Kerry as the heroic antiwar protestor who "told the truth" about Vietnam. Author Dotty (ahem) Lynch all but begs the Cambodian Shadow to take a similar stand over Iraq. And why not? The "war hero" gig didn't work out all that well in 2004, but Kerry is nothing if not flexible. Of course, there is that one small problem: what Kerry said about Vietnam wasn't the truth -- it was a pack of lies largely based on Hanoi's talking points. Kerry, like our external enemies, wanted Americans to believe that our troops were criminals waging a war of genocide.

John Kerry's advisors and media minions can kid themselves all they like, but his real problem with veterans in 2004 wasn't that he fudged a few medals. That isn't going to change in 2008.

----------

April 13, 2006 -- Franklin Raff of Radio America has written a great article on the yawning chasm between old media coverage of Iraq and the reality on the ground. Here's an excerpt:
I will never forget the sight of my colleague, a well-known, market-leading radio reporter feverishly clutching his satellite phone as a Chinook transport helicopter flew by, half a mile or so away. He was standing right beside me as he dialed through the time zones to go "live from Iraq":

We're right in the middle of the action! I'm sorry ... I can't hear you! There's a Blackhawk landing right behind me! I can't quite describe what's going on! This is unbelievable!

At the time, you see, we were just outside an Embassy chow hall, quietly discussing the weather. We had just eaten a magnificent lunch. In this combat reporter's trembling right hand was the target of his desperate screams, the satellite phone -- his listeners' link to the horror and chaos of war, the sweat and tears, the booming, blood-shod tragedy of it all. And in his left hand -- I swear it -- a chocolate milkshake.
The title of Franklin's piece? I Have Seen the Enemy....

----------

April 5, 2006 -- American Thinker magazine has published a very good article by the military historian J.R. Dunn exposing phony claims of Coalition atrocities in Iraq reported by the international media.

----------

March 30, 2006 -- FrontPage Magazine just ran Scott Swett's recent article as The Washington Post's Long Winter.

----------

March 28, 2006 -- John Kerry recently announced that he is setting up a legal defense fund to pay his legal bills in the defamation and conspiracy lawsuit filed against him by the Vietnam Veterans Legacy Foundation and Carlton Sherwood, director of the POW film Stolen Honor.

Wouldn't it be easier just to track down another rich widow?

In a devastating riposte against those who claim the Senator has no sense of humor, Kerry's new legal fund is called the "Fund for Truth and Honor." That's almost as good as the time the Kerry campaign announced that it intended to "set the record straight" about Vietnam.

----------

March 23, 2006 -- Our latest addition to the Special Features file is The Washington Post and the Winter Soldiers. Scott Swett chronicles his effort to persuade the Post to publish a few less-than-flattering facts about the VVAW film "Winter Soldier" in the wake of the Post's glowing review.

----------

March 15, 2006 -- The original sponsor of WinterSoldier.com, the Free Republic Network, is closing its virtual doors. In order to keep WinterSoldier online, webmasters Scott Swett and Bob Hahn have purchased the rights to the site via their web site development company, New American Media Online Services. WinterSoldier.com is now completely dependent on your support. If you have a few extra dollars you were thinking of sending our way, this would be an excellent time to do so.

Note: The Free Republic Network is *not* the same organization as FreeRepublic.com, the world's largest conservative discussion forum.

----------

February 3, 2006 -- Poet and Vietnam vet Russ Vaughn offers his take on the Toles "cartoon" in WaPo Weasels.

----------

February 2, 2006 -- The Washington Post recently published a charming cartoon featuring a multiple-amputee soldier in a hospital bed, with "Dr. Rumsfeld" leaning over to say, "I'm listing your condition as 'battle hardened."

No doubt the editors of the Post find this amusing, but we do not. Nor do the Joint Chiefs of Staff, who took the time to write a measured group letter that will appear in tomorrow's Post. It says in part, "We believe you and Mr. Toles have done a disservice to your readers and your paper's reputation by using such a callous depiction of those who have volunteered to serve this nation, and as a result, have suffered traumatic and life-altering wounds." The letter is signed by all six members of the JCS -- that's a total of 24 stars, for those of you keeping score at home.

Some leftist blogs are already complaining that the letter is a heinous infringement on the free speech of cartoonist Tom Toles and the Post, but that is hardly the case. We're pleased to see the brass sticking up for the troops against those who would exploit their sacrifice to advance an anti-military agenda.

You can do the same by contacting Deborah Howell, the ombudsman of the Washington Post.

----------

Go to Page 3 of "What's New"


Last Updated Friday, March 14 2008 @ 04:59 PM MDT; 5,560 Hits