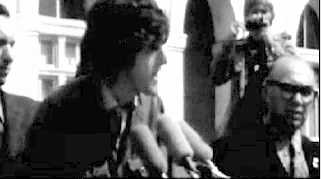 John Kerry with Abe Feinglass
Peoples Coalition for Peace & Justice (PCPJ) Demonstration, April 24, 1971
----------
JOHN KERRY: AMBITION AND OPPORTUNISM
As new information continues to becomes available about the radical activities and affiliations of John Kerry, one has to ask the following question -- did the KGB and the Communist Party USA use John Kerry to further their goals of a communist victory in Vietnam? The evidence strongly suggests that they did.
During his military, protest, and political careers, Kerry consistently used the people and circumstances around him to assure his own advancement. The book "Unfit for Command," by John O'Neill and Jerry Corsi, has shown how Kerry misrepresented minor, accidentally self-inflicted injuries to obtain two Purple Heart medals in Vietnam, and how he wrote exaggerated, self-promoting after-action reports to obtain the credentials of a war hero.
In the second half of the book, the part about Kerry's participation in the so-called "anti-war" or "peace" movement, is documentation showing how Kerry used others, especially the radical Vietnam Veterans Against the War (VVAW), to advance his public image, most likely in anticipation of entering politics at the national level.
As a former undercover member of several of the leading Communist-controlled "anti-war" movement national groups (member of National Mobilization Committee to End the War in Vietnam [Mobe]; founding conference member of New Mobilization Committee to End the War in Vietnam [New Mobe]; member of Student Mobilization Committee; member, Washington Mobe; and head of the short-lived Washington Peace Council), I had an insider's look at the "who" and "how" of these groups at both the local and national level. Some of my experiences, were published by the Senate Internal Security Subcommittee (SISS), a hearing held in Executive Session, "Extent of Subversion in Campus Disorders: Testimony of Max Phillip Friedman", Part 2, which was released on Oct. 15, 1969.
My understanding of how the movement worked allows me to provide some perspective about the events of April 1971, when John Kerry worked his way onto the American political scene, not only by working with leading Senate Democrats such as Sen. William J. Fulbright to get an invitation to testify before the Senate Foreign Relations Committee on April 21, 1971, but also by cooperating with the Peoples Coalition for Peace & Justice (PCPJ) -- a "peace" front identified by Congress as dominated by the Communist Party USA (CPUSA). During the latter effort, Kerry worked with at least one probable Soviet KGB agent of influence.
A KGB "agent of influence" was a person who knowingly acted to implement the will of the KGB, through direct contact with KGB agents, or through front organizations. An agent of influence might not be a formal KGB agent or even a CPUSA member, but as a hard-core Stalinist and supporter of the Soviet Union, such an individual clearly understood he or she was working for trusted Soviet operatives.
An obscure but potentially devastating reference to KGB operations in the U.S. during the Vietnam period can be found in the John Dean Testimony, June 26, 1973, 3SSC 1072, as reprinted on Page 166 of the "Statement of Information: Hearings before the Committee on the Judiciary, House of Representatives, 93rd Congress, Second Session, Book VIII, Internal Revenue Service, May - June 1974." This was part of the "Watergate" hearings concerning the possible impeachment of President Nixon over the Watergate Apartments burglary.
Dean said: "The memoranda I received from the CIA were straight classified documents regarding activities of some antiwar demonstrators or people traveling to Hanoi and things of this nature. Also, foreign funding of domestic radical groups and things of this nature which I would forward generally to Dr. Kissinger or General Haig."
More about Soviet funding of the Communist Party USA thru KGB agents of influence, usually members of the CPUSA such as Stanley Levinson and possibly Jack O'Dell, can be found in John Barron's book "Operation Solo: The FBI's Man in the Kremlin" (Regnery, 1996).
A BRIEF HISTORY OF THE MOVEMENT
A brief history of the Vietnam anti-war movement is necessary here to identify the players so that what follows will make sense. Peoples Coalition for Peace & Justice (PCPJ) was the direct descendant of several CPUSA "united fronts" in the anti-war movement, starting with the Spring Mobilization Committee to End the War in Vietnam (1967), the National Mobe (1967-69), the Strategy Action Conference / National Coalition Against War, Racism & Repression (NCAWRR) (early-mid 1970), and finally, PCPJ itself (late 1970).
The same basic leadership showed up in the various Mobes and their successors, including such CPUSA and pro-communist individuals as David Dellinger, Jack O'Dell (CP), Leslie Cagan (eventually aligned with the CP faction known as COC), Norma Becker (5th Ave Peace Parade, longtime CP front supporter), LeRoy Wolins (CP and leader of the CP front, Veterans for Peace, founder of the original VVAW, and one-time registered agent for the Soviet Union), Irving Sarnoff (CP and Southern California Peace Action Coalition / LAPAC), Jack Spiegel (CP and Chicago Peace Council (CPC), along with fellow identified CPers and CPC leaders Wolins, Sylvia Kushner and Abe Feinglass); Abe Bloom (CP and New Mobe leader), Pauline Rosen (CP and Women Strike for Peace), Cora Weiss (World Socialist Party and daughter of CP member and possible Comintern Agent Samuel Rubin), and Sidney Peck (former member of the Wisconsin State Communist Party).
Other pro-Hanoi leaders who floated in and out of the Mobes / PCPJ-NPAC included Rennie Davis (Chicago 7), Sid Lens (Revolutionary Workers League), Fred Halstead (Socialist Workers Party), Trudi Young/Schwartz (World Socialist Party), her husband Ron Young (Fellowship of Reconciliation), and Stewart Meacham (American Friends Service Committee).
The Trotskyite Socialist Workers Party (SWP), led by Halstead, Don Gurewitz, Carol Lipman, Debbie Bustin, etc., fought within the Mobes for control though they never achieved it. They did, however, take over and control the Student Mobilization Committee Against the War in Vietnam, and later formed a New Mobe split-off, the National Peace Action Coalition (NPAC), in mid-1970].
All this is heavily documented in hearings and reports by the House Committee on Un-American Activities and its successor, the House Internal Security Committee (1967-1975) (HISC), and its Senate equivalent, the Senate Internal Security Subcommittee (SISS). Some of the later reports by HISC and SISS provid an overview history of the Vietnam Veterans Against the War, from its secret founding by LeRoy Wolins and his Veterans for Peace, to the Maoist takeover of late 1972 / early 1973, led by members of the Revolutionary Union, which eventually became the Revolutionary Communist Party (See: Cong. Rec. 3/5/75, E1399; 5/5/75, E2179-2180; 7/20/76, E3910-3912; and SISS, "Subversion of Law Enforcement Intelligence Gathering Operations - Organizing Committee for a Fifth Estate," hearings, Part I, 3/20/76).
VVAW AND THE PROTESTS OF APRIL 1971
The Mobes and their successor organizations were the major organizers of protests against the war in Vietnam, and were extremely successful in bringing hundreds of thousands of people out to mass rallies in 1967, 1969, 1970, and to the famous April 24, 1971 protest in which John Kerry appeared as a VVAW leader, along with Joe Urgo and Al Hubbard, a fraudulent Vietnam vet with ties to the radical Black Panther Party.
Contact between the CPUSA and the VVAW leadership goes back as far as its secret creation in mid-1967 by LeRoy Wolins, of the CP front Veterans For Peace, and the involvement of the public founders of VVAW in the communist-dominated Fifth Avenue Vietnam Peace Parade later in 1967 (See "Home to War" by Gerald Nicosia and "The Turning" by Andrew E. Hunt for details on the founding of VVAW and the group's relationship to the FAVPP).
Other VVAW projects growing out of their participation in the FAVVP, which was a constituent of the National Mobilization Committee to End the War in Vietnam, included the made-in-Hanoi "Peoples' Peace Treaty," cooperation with the pro-Hanoi "National Committee for a Citizens' Commission of Inquiry on U.S. War Crimes in Vietnam (CCI)," an offshoot of far-leftist Bertrand Russell's War Crimes Commission in England, and the United States Servicemens' Fund (USSF) which operated in 1970-71.
Common to all the "anti-war" groups were those at the core of the "Hanoi Lobby" -- veteran visitors with Vietnamese communists in Hanoi and Paris who formed the leadership of the various Mobes and the PCPJ. This pantheon of Hanoi supporters included David Dellinger (Mobes, Chicago 7), Mark Lane (NLG, CCI, USSF), Jane Fonda (CCI, VVAW/Winter Soldier, USSF), Rennie Davis (Mobes, Chicago 7), Tom Hayden (SDS, Mobes, IIP), Jeremy Rifkin (CCI), Douglas Dowd (Mobes), Sylvia Kushner (Chicago Peace Council), Stewart Meacham (AFSC), Brad Lyttle/David McReynolds (WRL), and Max Primack (Chicago Peace Council).
This is where things got interesting regarding possible KGB influence and/or control of the PCPJ side of the protest on April 24, 1971. The Trotskyite Communists (SWP) controlled the NPAC side, with which John Kerry later had a brief affiliation with as a speaker in November 1971.
VVAW, by its own admission (see Al Hubbard's letter to "Friends" on April 20, 1971), worked out of the PCPJ national office in Washington, DC for the protests. Executive Secretary Hubbard wrote:
"This is an appeal for help for the Peoples Coalition for Peace and Justice. Over the past months the Peoples Coalition has supported the Vietnam Vets Against the War in many ways. The Coalition has made office space available at no charge, and permitted the use of all necessary office equipment such as mimeograph machines, stencil-making machines, folders and typewriters. They have loaned us cars, bullhorns, and public address equipment. Their staff has taken messages for us and joined fraternally in building our programs. Now we can return this support."
Hubbard himself was quite willing to work hand in hand with communists; FBI files show that at least one of his trips to meet with Vietnamese communist leaders in Paris was paid for by the CPUSA.
Funding for both New Mobe and PCPJ was controlled by CPUSA members or their associates (checks were signed by Abe Bloom (CP), Sid Peck (CP), and Brad Lyttle (WRL, and an avowed pro-Marxist activist who supported CP fronts). NPAC's checks were signed by SWP members Patricia Grogan and Syd Stapleton. SMC checks were signed by Carol Lipman (SWP) and Don Gurewitz (SWP), son of identified CPUSA members Casey and Helen Gurewitz, both of whom were in National/New Mobe and Washington Mobe.
Kerry was a key leader of the VVAW for the crucial "Operation Dewey Canyon III" protests during the week leading up to the giant April 24 PCPJ rally. Events included a "combat" march, simulating American "atrocities" against civilians, throwing away service medals and ribbons, lobbying Congress for the withdrawal of US troops from Vietnam, and Kerry's own testimony before the Senate Committee on Foreign Relations on April 22, in which he accused the US of murdering 200,000 civilians a year in Vietnam.
As a member of the VVAW's Executive Committee and the organization's leading spokeman, Kerry worked closely with both Al Hubbard (VVAW's contact in the PCPJ) and Joe Urgo (a Maoist communist who would travel to Hanoi that August to meet with North Vietnamese Prime Minister Pham Van Dong). The April 24th demonstration had become a joint effort of PCPJ and NPAC at the urging of the Vietnamese communists. Xuan Thuy, a leading negotiator for Hanoi at the Paris peace talks had issued the following instructions to the American anti-war movement on March 6th:
"I call upon the progressive American people and all anti-war organizations in the United States to unite closely, to associate all forces and strata of the population irrespective of their skin color, religion, and political trend, thus making a wide and strong movement so at to curb in time new military adventures by the U.S. Administration, to demand an end to their war of aggression in South Vietnam, Laos and Cambodia, to demand the withdrawal of all American troops from Indochina, and let the Indochinese people settle their own internal affairs."
The decision of PCPJ and NPAC to hold a joint event on April 24 despite their growing ideological rift was an open acknowledgment that they were willing to put aside their differences to work for the North Vietnamese, whose goal was not "peace" in Vietnam, but a communist victory and dictatorship.
Of the VVAW events that week at the Capitol, it was John Kerry's "last man to die for a mistake / war crimes" speech before Fulbright's Senate Committee on April 22nd that marked the greatest success of the VVAW as an organization, and of Kerry's own career as an anti-war activist. The VVAW was not finished protesting, but internal fighting between radical Maoist factions and among the general membership soon undercut the organization's effectiveness and influence within the "movement."
ON THE SPEAKERS PLATFORM: APRIL 24, 1971
On April 24th, two days after Kerry's litary of dubious war crimes before the Senate, the PCPJ and NPAC held their massive joint demonstration against the war in Vietnam, positioning their speakers' platform on the steps of the U.S. Capitol.
Jack Kurweil, a CPUSA member and the former husband of Bettina Aptheker (a publicly avowed CP member and daughter of CPUSA theoretician Herbert Aptheker), wrote the following note on April 27th:
"New elements of support for the anti-war movement were evident at the speaker's platform. Women, workers, Blacks, Chicanos, students, radicals, and GI's all were represented in front of the Capitol. Included among the speakers were ABE FEINGLASS from the Amalgamated Meatcutters and Butcher Workmen, Harold Gibbons, vice president of the International Brotherhood of Teamsters, Coretta King, RALPH ABERNATHY, Rep. BELLA ABZUG (NY), and JOHN KERRY from the VVAW..." [emphasis added]
Feinglass, Abzug, and Abernathy shared one thing in common; their membership and participation in numerous Communist Party and Soviet fronts, including the World Peace Council (WPC), the International Association of Democratic Lawyers (IADL), and the World Federation of Trade Unions (WFTU).
Abernathy was an honorary VP of the WPC while Feinglass, a long-time identified CPUSA labor leader, was a working WPC VP. Bella Abzug, whose CPUSA identity (according to an internal security analyst) has not yet been made public, was a member of the IADL, the Soviet international legal front whose U.S. affiliate was the National Lawyers Guild (NLG). Abzug had belonged to the NLG since the 1940's when she was Bella Savitsky/Abzug.
Also present was Jack O'Dell, a one-time personal aide to the late Dr. Martin Luther King Jr., and a decades-long aide to Rev. Jesse Jackson (Operation Breadbasket/Push and the Rainbow Coalition), who had been identified as a CPUSA organizer for the South as early as the 1950's. There is some indication, from Communist organizer documents seized from his apartment back then, that he was already in contact with Soviet intelligence. O'Dell was also identified as a national leader of the CPUSA in 1961, long before he became a Mobe work horse, a founder of the US Peace Council, a delegate to the WPC, an anti-cruise missile protest leader, and a key represenatative for Jesse Jackson to Cuba, the PLO, Syria, etc.
In the definitive book on the Marxist/CP riddled and funded Institute for Policy Studies (IPS), "Covert Cadre," 1987, p. 43, author Steve Powell mentioned that the April 24th speakers included PCPJ leader David Dellinger and honorary IPS fellow I.F. Stone, later identified from FBI documents as a one-time CPUSA member and a paid agent of the KGB [see Accuracy in Media's "AIM Report," August-B 1994, Vol. XXIII-16]. [Note: For the complete HISC report on the history of the Mobes/PCPJ and the April 24th demonstration, see the Congressional Record, April 21, 1971, "The Second Front of the Vietnamese War: Communist Subversion in the Peace Movement," which was read into the Record by Congressmen Thompson, Zion and Schmitz. This report was also available, in book form, as "The Viet Cong Front in the United States."]
In Fall, 2004, when I saw various news media films about John Kerry which showed that day in April, something struck me as alarming -- the man who was directing the speakers on the Capitol steps, including John Kerry.
The best file of that day I have seen to date was shown on MSNBC's "John Kerry: Bringing the War Home," a feature shown on that cable channel several times leading up to last year's presidential election (other news shows featured much briefer clips of that event). The MSNBC film shows three people standing on the speakers' platform with Kerry as he spoke. Behind Kerry on his right and left are two young men whose identity I have not been able to discover. However, it was the older man to Kerry's immediate left that should have worried internal security investigators.
Just who was this short, mostly bald, slightly rotund man dressed in a black coat and tie, carrying a clipboard? And why was he so important?
ABE FEINGLASS: KEY CPUSA MEMBER AND PROBABLE KGB AGENT OF INFLUENCE
This man was none other than Abe Feinglass of Chicago, a longtime identified CPUSA member and leader in the CP-dominated Amalgamated Meatcutters and Butcher Workmen Union of North America, International Brotherhood of Meatcutters. This union was controlled and run by veteran CP activists such as Jesse Prosten, Charlie Hayes (later a Democratic congressman from Chicago), and Richard Criley, along with Comrade Abe. Feinglass had previously been a vice-president of the CP-dominated International Fur and Leather Workers Union (CIO), and when they merged with the Meatcutters, he became Director of its Fur Department.
Feinglass had been identified decades earlier in sworn Congressional testimony as a member of the CPUSA in "Communist Activities in the Chicago Area - Part 1" (United Electrical, Radio and Machine Workers of America and Farm Equipment Workers Council Hearings, House Committee on Un-American Activities, Sept. 2, 1952, p. 3638), and in "Investigation of Communist Activities in the Chicago Area - Part 3" (HCUA, April 29, 1954, pp. 4279-4294). Feinglass took the Fifth Amendment, refusing to answer whether he was a member of the CPUSA during the latter series of hearings.
Feinglass's long radical history included being a member of National Mobe, New Mobe, and PCPJ, a long time member of the CPUSA front, the Chicago Peace Council (CPC), and a vice-president of the KGB/CPSU (Communist Party of the Soviet Union) operation known as the World Peace Council. Feinglass also was on the National Executive Committee of the May, 1973 "Founding Conference for a National Defense Organization Against Racist & Political Repression," an out-growth of the Angela Davis Defense Committee, both of which later became the CP front known as the "National Alliance Against Racist & Political Repression" (NAARPR).
Feinglass would go on to become a member of the U.S. Preparatory Committee for the World Peace Congress that was held in Moscow on Oct. 25-31, 1973 -- yet another WPC front operation. He was also a writer for the CP labor front TUAD (Trade Union Action & Democracy) newspaper Labor Today (May, 1975), and became a founding member of the WPC's U.S. chapter, the U.S. Peace Council, in November 1979. Feinglass was a sponsor of various other CPUSA fronts including those honoring identified Soviet agent Steve Nelson. [Nelson was the leader of the CP front, Veterans of the Abraham Lincoln Brigade (Invitation, 2/16/75, and Cong. Rec. of 3/22/75, E 1365 & 11/19/75, E 6261).] Feinglass was also a speaker at the "tribute" to Jessica Smith and the CP-Soviet propaganda publication New World Review (Feb. 1, 1976), and helped host the WPC "Dialogue on Disarmament and Detente" in Washington, D.C., from Jan. 25-28, 1978 (CP's Daily World, p.8 with photo).
In between helping to found the US chapter of the World Peace Council, the USPC, in November, 1979, and his Helsinki trip later on, Feinglass found time to give a speech at a WPC conference called the "World Parliament of Peoples for Peace Appeal," held in Sophia, Bulgaria from September 23-27, where he was identified only as the vice-president of the United Food and Commercial Workers Union. The WPC's World Peace Courier newsletter in January 1980 featured Feinglass sitting at a head table next to Professor Phan Anh (Vietnam), Aziz Sherif (Iraq), Academician E. Feodorov (USSR), and Romesh Chandra, head of the Communist Party of India and a universally suspected KGB agent. Everyone at this table had the full trust of the KGB, regardless of whether they were KGB agents or agents-of-influence.
Feinglass attended the Bureau of the WPC's Presidential Committee in Helsinki, Finland on Dec 18, 1979, and continued to participate in Soviet front operations until his death in the late 1980's. He was one of the most active American Communist Party leaders of his era.
In retrospect, the presence of Feinglass as a PCPJ leader at the April 24th demonstration and his apparent role coordinating those who spoke on the Capitol steps, along with the participation of other known or probable KGB agents-of-influence such as O'Dell, Abzug and Stone, added evidence to the observation that the CPUSA and the KGB wanted one of their best and most trusted men to run the affair so that there would be no screw-ups.
Congress long ago found the KGB's influential hands manipulating the anti-Vietnam demonstrations. Relevant reports were submitted by the House Internal Security Committee, the FBI, and surprisingly, include the Watergate testimony of John Dean, former White House Counsel, as previously mentioned. In testimony before Congress in 1982, the FBI openly described several key Soviet KGB-run fronts operating in the US, including the National Council of American-Soviet Friendship and the US Peace Council, an affiliate of the KGB-run World Peace Council (See: "Soviet Active Measures," hearings, House Permanent Select Committee on Intelligence, July 13-14, 1982).
Feinglass's status as a national labor leader helped to get him a position as a Vice President of the WPC, which, in turn, allowed him to attend international meetings of Soviet labor and peace fronts all around the world where he could meet and get instructions from KGB operatives. He could have cared less what Congress and the FBI had to say about him. He knew that the liberal press would ignore his activities, which they did.
Therefore, whether or not John Kerry knew about his long-standing CPUSA credentials, Kerry was apparently under the control of this probable Soviet agent-of-influence on April 24, 1971 as he spoke on behalf of the VVAW as part of the CP-dominated PCPJ, standing next to the senior PCPJ leader present on the speakers platform, Abe Feinglass.
An additional piece of relevant information about Kerry's communist contacts came from a story entitled Answer This Question, Mr. Kerry, published by the Pittsburgh Tribune-Review's internet service on October 17, 2004. The story, by a British journalist based in Washington, D.C., concerned the man who may have helped arrange Kerry's meeting with the Viet Cong and North Vietnamese delegations in Paris in May 1970, a meeting that took place while Kerry was on his "honeymoon" shortly before he joined the VVAW. (Kerry had reportedly been politically active previously, in October 1969, with the Vietnam Moratorium Committee, a group led by New Left Hanoi sympathizers).
The article reported that a New Mobes/PCPJ organizational constituent, the Marxist-oriented War Resisters League, had identified David Dellinger as the contact/conduit between Kerry and the Vietnamese communists. Kerry was described as "busy as a beaver, also meeting, according to French intelligence sources, with Le Duc Tho of the Democratic Republic of Vietnam, the personal representative of another old monster, Ho Chi Minh." Some honeymoon!
If, in fact, Dellinger was the contact, that would fit neatly with a statement made in a position paper by the radical CRV (Committee of Returned Volunteers) that was mentioned in the August 22, 1970 Liberation News Service news packet that an "International Committee" composed of 10-15 New Mobe leaders had "perpetuated itself by selecting people for trips or meetings with the Vietnamese, and then drawing them into the Committee when they returned..." This would also explain how an anonymous Naval Lieutenant was able to obtain personal audiences with the top Vietnamese communist leaders in Paris.
Dellinger was an original founding members of the old Mobilization Committees who had travelled to Hanoi with CPUSA theoretician Herbert Aptheker and Tom Hayden as early as 1965. Two Washington Post articles from the fall before Kerry's first known meeting with the Vietnamese communists describe their plans to enlist American anti-war groups: "VC Woman Encourages U.S. Protests," UPI, Oct. 13, 1969 and "VC to Cultivate U.S. Antiwar Groups," Stanley Karnow, Oct. 18, 1969.
The so-called National Liberation Movement (Viet Cong), announced the creation of the South Vietnam's People's Committee for Solidarity with the American People, an organization whose function was to establish relations with "all progressive organizations and individuals in the United States who are struggling for peace, justice, freedom, democracy and civil rights."
The same article also noted that "In another dispatch today, the agency [VC's Liberation Press Agency] disclosed that the new Vietcong group had sent a message of support to two New York antiwar organizations, the National Mobilization Committee and the Student Mobilization Committee."
Among the leaders of National Mobe were none other than Dave Dellinger and Abe Feinglass.
Could all this have been a coincidence, or was it part of a well-planned Moscow/Hanoi effort to use American communists, especially those from the Soviet-directed CPUSA and its sympathizers, to develop an underground intelligence/propaganda network within America that would eventually reach to Havana, Paris, Stockholm and Hanoi? Dellinger was a tried and true "small c" communist with distinct CPUSA ties through CP "united fronts" and was one of the earliest Hanoi travelers, while Feinglass was a trusted CPUSA labor leader with international connections through Soviet front operations.
Who could Hanoi better trust than this pair? On April 24, 1971, both were key leaders not only of the Mobes, but also of their successor, the PCPJ. Both men spoke at the rally themselves. It is reasonable to conclude that John Kerry, VVAW/PCPJ, was operating under their direct influence if not outright control. The presence of Kerry, a highly decorated former Naval officer, immediately following his nationally-televised Senate testimony, was a valuable addition to the communist-controlled rally. His words parroting the Vietnamese communist policy line would be heard by millions.
A LASTING LEGACY
The April 24, 1971 rally provided one more example of how John Kerry used people and/or organizations (VVAW, PCPJ-NPAC) for his own political agenda, while also being used, in turn, by them. A wiser man might have steered clear of such associations, but Kerry's refusal to leave VVAW despite the exposure of Al Hubbard as a fraud, the various assassination plots of VVAW chapter leader Scott Camil, and the rise of the Maoists within the organization, showed that he was accustomed to putting his own ambition before common sense, and certainly before his country.
The danger of forming such a relationship was that once the Soviets got their hands upon Kerry, it would be difficult for him to refuse future requests whenever he might be needed as one of their patsies. The KGB, one must remember, was careful to make sure that its recruits were thoroughly compromised. Whether this actually happened during the 1980's when Kerry became involved with the Sandinistas will be the subject of another article. There is evidence that a KGB-connected Marxist group did, in fact, play a major role in setting up the meeting that Kerry and Senator Tom Harkin (like Al Hubbard, a fraudulent Vietnam vet), had with Daniel Ortega, the Marxist dictator of Nicaragua, in Managua in April 1985, days before a key congressional vote on aid to anti-Sandinista freedom-fighters.
Much more will be written concerning Kerry's endorsement of a Communist-funded Vietnam teaching guide, his reported hiring of two unsavory characters for his Senate staff and Senate Committee staff, and his reported reliance on a veteran Hanoi supporter's tall tale to launch spurious Senate hearings into alleged Contra involvement in a drugs-for-guns program in an attempt to undermine their fight against the Marxist Sandinista dictatorship. What is interesting, and disturbing, is the common thread between Kerry and all of these contacts -- their involvement in communist-dominated groups that supported Hanoi during the Vietnam War.
----------
Max Friedman
Max Friedman, a long-time student of the anti-war movement, contributed research for the book "Unfit for Command." He is also a former Associate Editor of "The Pink Sheet on the Left/American Sentinel" internal security newsletter.


Last Updated Thursday, April 19 2007 @ 10:15 AM MDT; 21,353 Hits