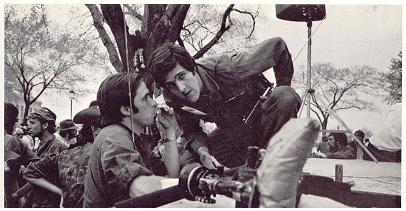 ----------


----------

December 12, 2012 -- John Kerry was nominated for Secretary of State today, a singularly inappropriate position for a man with a long history of cooperating with America's enemies and undermining American interests. Unfortunately, Senator Kerry differs little in this regard from his predecessor, or from anyone else Mr. Obama would be willing to nominate.

----------

September 6, 2012 -- Although it is rarely noted, the 2004 Presidential campaign marked a turning point in American politics. For decades, starting during the Vietnam War, leftists felt free to revile our troops and veterans as war criminals. Tonight at the Democratic National Convention, Barack Obama couldn't kiss up to them enough.

----------

February 20, 2012 -- Should the Navy name a new ship after the famously corrupt John Murtha, who wrapped up his long, dismal career in Congress by smearing U.S. Marines as mass murderers? NoMurthaShip.com thinks not.

----------

January 4, 2012 -- The trial of SSgt Frank Wuterich, the last of eight Marines accused of committing crimes against Iraqi civilians in 2006, began today at Camp Pendleton in California. All charges against the other seven defendants have been dismissed, to the dismay of the New York Times, which once hoped the events in Haditha would become the "defining atrocity" of the Iraq war. Instrumental in fueling the war crimes media frenzy was the late Rep. John Murtha, who said the Marines had murdered Iraqi women and children "in cold blood." Murtha, who died in 2010, never apologized for the false accusation.

----------

August 19, 2011 -- Don't miss Scott Swett's new American Thinker article: Did Kerry's Swift Boat hatchet man fake his own Silver Star?

----------

July 29, 2011 -- An AWOL Muslim soldier has been arrested in Killeen, Texas with weapons, explosives and jihadist materials. Pfc. Naser Jason Abdo was evidently preparing to follow in the footsteps of Major Nidal Hasan, who murdered 13 soldiers at nearby Fort Hood in 2009.

Abdo previously sought conscientious objector status from the Army, assisted and supported by the Iraq Veterans Against the War. Last October, IVAW leaders read Abdo's statement on "Islamophobia" in the US military at a radical press conference in New York City. Now, of course, the IVAW is feigning ignorance about the fellow whose brave resistance - and defense fund - they touted on their website. However, as This Ain't Hell points out, Abdo's now-deleted Facebook page "was linked to a TON of IVAW members." And when Abdo was recently convicted of possessing child pornography, his attorney James Branum was "the same lawyer that does all the IVAW cases."

Perhaps the IVAW should change its name to "Iraq Veterans, Frauds and Terrorist Enablers Against the War."

----------

July 25, 2011 -- John Kerry was introduced at the 2004 Democratic National Convention by Wade Sanders, a retired Navy Captain and former Deputy Assistant Secretary of the Navy who served as a Swift Boat officer in Vietnam. Like Kerry, Sanders was the recipient of a Silver Star for gallantry in action. During the 2004 campaign, Sanders functioned as Kerry's lead attack dog against the Swift Boat Veterans for Truth, repeatedly denouncing the veterans on the air as liars and comparing them to Nazi propagandists.

Wade Sanders is currently in Federal prison, serving a 37-month sentence for possessing child pornography. Now the Navy Times reports that Secretary of the Navy Ray Mabus has revoked Sanders' Silver Star. The highly unusual decision appears unrelated to Sanders' felony conviction. A Navy spokesman cited "subsequently determined facts and evidence surrounding both the incident for which the award was made and the processing of the award itself." John Kerry has to be hoping this doesn't become a trend.

As one might imagine, the media has ignored this story. Even the Navy Times declined to post its own article online.

UPDATE: This story has now been picked up by American Thinker, Politico, the Boston Globe and Fox News.

UPDATE II: If you have a strong stomach, take a look at the sentencing memorandum from Wade Sanders' trial.

UPDATE III: A more detailed version of the Navy Times article by Gidget Fuentes is now online at MarineCorpsTimes.com.

----------

March 6, 2010 -- Ex-IVAW leader Adam Kokesh is running for Congress in New Mexico as a patriotic, pro-military Republican. Former Navy Captain and SEAL Larry Bailey is unimpressed. Read Adam Kokesh: A Dishonored Marine.

----------

January 12, 2010 -- To Set The Record Straight: How Swift Boat Veterans, POWs and the New Media Defeated John Kerry is now available on Kindle for just $4.99.

----------

May 25, 2009 -- Don't miss Scott Swett's new article at American Thinker: Media still lying about the Swift Boat Veterans. The latest claim by the DNC media is that the "swiftboaters" are opposing Obama's socialized health care plan. The real Swift Vets have been politically inactive since 2004.

----------

February 8, 2009 -- Added a new section containing all known transcripts of Jane Fonda's broadcasts on Radio Hanoi during the summer of 1972. The material written for Fonda by her communist hosts is remarkably similar in tone and content to leftist propaganda today.

----------

March 31, 2008 -- Mackubin Thomas Owens slices and dices the IVAW's lackluster reprise of the anti-military propaganda campaign that worked so well back in 1971.

----------

March 14, 2008 -- The Iraq Veterans Against the War's new Winter Soldier meeting is underway in Silver Spring, Maryland. In a sharp departure from the tactics of the discredited 1971 conference of the same name, participants have agreed to provide detailed, specific descriptions of war crimes committed by US forces in Iraq and Afghanistan. Organizers will supply military investigators with sworn testimony about the units and personnel involved.

Just kidding. No, it's the same old recital of vague, unverifiable anti-military stories, flavored with indigestible blobs of leftist rhetoric. No specifics. No names. No affidavits. Even John Kerry is distancing himself from this turkey...

Michelle Malkin is following the action. Don't forget to have your Reporters' Guide handy. And some popcorn.

----------

March 13, 2008 -- In a new Special Feature, Scott Swett targets reporting by the Los Angeles Times on the contents of the War Crimes Working Group at the National Archives, showing how the paper avoided mentioning the central fact about Army investigations into the VVAW's atrocity allegations -- that all but one case was dismissed as unsubstantiated or demonstrably untrue. Read Did the LA Times Conceal Evidence of "Winter Soldier" Lies?

-- also published at FrontPage Magazine.

----------

February 25, 2008 -- ***BREAKING*** As the radical Iraq Veterans Against the War prepare a new war crimes conference named to honor the Vietnam Veterans Against the War's 1971 "Winter Soldier Investigation," Scott Swett documents how the first "winter soldiers" stonewalled and backtracked on their atrocity claims when questioned by military investigators. Don't miss Newly Discovered Army Reports Discredit "Winter Soldier" Claims.

-- also published at FrontPage Magazine.

The Army summaries of the Criminal Investigation Division (CID) reports can be found here.

----------

February 10, 2008 -- 40 years ago, American and South Vietnamese forces crushed North Vietnam's Tet Offensive; a simultaneous military attack and guerrilla uprising aimed at seizing the northern provinces of South Vietnam. Yet the communists succeeded in turning military disaster into a propaganda victory. See Arthur Herman's new article in the Wall Street Journal, The Lies of Tet.

----------

January 31, 2008 -- Don't miss Andrew Walden's outstanding new article in FrontPageMagazine. The Surrender Lobby's Tet Offensive lays out the facts about the Left's latest war crimes propaganda campaign.

----------

January 30, 2008 -- Scott Swett talks with FrontPageMagazine.com about the Swift Vets, his new book, and the ongoing effort to smear America's military and veterans.

----------

January 21, 2008 -- Poet and Vietnam veteran Russ Vaughn takes the New York Times to task for its blatant anti-veteran propaganda and looks back on the 2004 campaign as a time of liberation from a media-constructed prison in which many Vietnam veterans had long languished. While reading the new book To Set The Record Straight: How Swift Boat Veterans, POWs and the New Media Defeated John Kerry, Vaughn was struck by how the Swift Boat Veterans for Truth developed what they called a "tap code" to communicate their message to the public. As Swift Vet spokesman John O'Neill later observed:
We had our own set of guards. They were called the mainstream media. We had to have some way to get around them, and we devised a method of doing that.
Vaughn writes:
Reading those words, I experienced a sudden, flashing insight that the forty years of anger, resentment and conflicting emotions that I and my Vietnam veteran brothers had endured since our return from Southeast Asia was no less than a form of psychological imprisonment, a life sentence of disrepute and dishonor imposed upon us by a left wing media which had been too easily manipulated by America's enemies. Worse, not only had this leftist media been the prosecutor, judge and jury in charging us with vile war crimes and passing this life sentence upon us, they had since served as the ever vigilant wardens and guards of this mental prison just as O'Neill described them. And just as at the Hanoi Hilton, their Soviet-directed misrepresentations erected a wall of lies around us and kept us within by controlling what America and the world heard of and from us...

That is, until, the advent of the Internet, which quickly became our tap code. Because many of us were now in our fifties and sixties, not quick to pick up on the freedom of communication this technology offered, the tapping was tentative and limited at first. But it was steadily growing in volume and with the nomination of John Kerry as the Democratic candidate for president in 2004, that tapping quickly became a booming crescendo. With the Swift Vets leading the way, in the summer and fall of 2004 it led to a full-fledged prison break.
----------

January 19, 2008 -- In Bylines of Brutality, the satirist Iowahawk brilliantly parodies the recent New York Times article claiming that violent crimes by returning combat veterans are commonplace:
A Denver newspaper columnist is arrested for stalking a story subject. In Cincinnati, a television reporter is arrested on charges of child molestation. A North Carolina newspaper reporter is arrested for harassing a local woman. A drunken Chicago Sun-Times columnist and editorial board member is arrested for wife beating. A Baltimore newspaper editor is arrested for threatening neighbors with a shotgun. In Florida, one TV reporter is arrested for DUI, while another is charged with carrying a gun into a high school. A Philadelphia news anchorwoman goes on a violent drunken rampage, assaulting a police officer. In England, a newspaper columnist is arrested for killing her elderly aunt.

Unrelated incidents, or mounting evidence of that America's newsrooms have become a breeding ground for murderous, drunk, gun-wielding child molesters? Answers are elusive, but the ever-increasing toll of violent crimes committed by journalists has led some experts to warn that without programs for intensive mental health care, the nation faces a potential bloodbath at the hands of psychopathic media vets.
Mark Steyn joins the anti-Times-propaganda party with Some Fictional Horrors of War.

----------

January 14, 2008 -- The New York Times continues its attack on the military with a lengthy article detailing violent crimes committed by U.S. troops after returning home from Iraq and Afghanistan. Naturally, the Times was careful not to mention that civilians in the same age range commit such crimes at a significantly higher rate. Power Line does a good job exposing the Times' dishonest, agenda-driven reporting.

It's worth bearing in mind just who runs the New York Times. Owner Arthur "Pinch" Sulzberger, Jr. was asked during the Vietnam War who he would prefer to see shot, a North Vietnamese soldier or an American. Sulzberger answered, "I would want to see the American get shot."

----------

December 24, 2007 -- Hoping to replicate their forebears' success at character assassination, the Iraq Veterans Against the War have announced their intention to hold their own 'Winter Soldier Investigation' in March to smear members of the U.S. military in Iraq as war criminals. Naturally, the IVAW is working closely with former members of the Vietnam Veterans Against the War as they prepare to trash the troops once again.

Denis Keohane covers the situation in depth in a new American Thinker article, Swiftboating history.

----------

December 6, 2007 -- It's a Kerry Christmas at WinterSoldier.com. New American Media Publishing has just released the definitive book on the 2004 veterans' movement. Scott Swett and Tim Ziegler's To Set the Record Straight: How Swift Boat Veterans, POWs and the New Media Defeated John Kerry is the product of two years of research and hundreds of interviews with key participants. It tells the inside story of how Vietnam veterans and their supporters delivered the explosive truth about John Kerry's military service and pro-Hanoi activism to the American public, despite relentless efforts by the Kerry campaign and its media affiliates to discredit and silence them.

Excerpts available online include the Foreword, by John O'Neill, and Chapter 13: Rather's Ruin and the Rise of the Pajamahadeen, which chronicles how ordinary citizens exposed Dan Rather's fraudulent "60 Minutes" report on George Bushbs National Guard service, effectively ending Rather's career. The book also contains previously unpublished information on the coordination between the VVAW and Hanoi during the Vietnam War, and provides new eyewitness perspectives on Kerrybs "No Man Left Behind" engagement -- from a Forward Air Control pilot and from the mission's Special Forces commander.

To Set the Record Straight is essential reading for anyone who cares about politics, the media or the military.

----------

November 12, 2007 -- Don't miss the new article by Mackubin Thomas Owens, Slandering the American Soldier.

----------

November 8, 2007 -- John Kerry now informs us that he has compiled a dossier on his war record critics. In a bid to restore his "war hero" image with the public three years after his loss in the 2004 presidential election, Sen. Kerry released thousands of pages of previously hidden documents that fill in the gaps in his military record.

Just kidding. Kerry didn't release any information whatsoever; he just made a few more empty claims.

By the way, Senator, how are all those Winter Soldier affidavits you promised us back in 1971 coming along?

----------

August 30, 2007 -- "Triumph Forsaken" author Mark Moyer has provided much of the scholarship behind the Bush Administration's new initiative to confront the mythical Vietnam War of the Left, in which heroic antiwar protestors brought peace to Southeast Asia instead of unimaginable carnage. Here he evaluates the President's statement and the dishonest howling it provoked:

Getting Vietnam Right -- Mark Moyar
The statements of Kerry and Kennedy lure the public's gaze away from the speech's main point -- that antiwar Americans believed that the Vietnamese and Cambodian people would stop suffering if America stopped supporting the anti-Communist forces. It is very much in the Senators' interests, for both espoused this view during the war. In his famous Dick Cavett Show appearance, Kerry said, "There is no interest on the part of the North Vietnamese to try to massacre the people once people have agreed to withdraw." In early 1975, Kennedy objected to President Ford's request of $300 million in military aid for South Vietnam and $220 million for Cambodia by arguing that this aid would "fuel the war."
----------

August 29, 2007 -- President Bush recently pointed out that the leftist version of Vietnam carefully omits the Southeast Asian holocaust that followed the antiwar movement's fondly-remembered success. He added:
There was another price to our withdrawal from Vietnam, and we can hear it in the words of the enemy we face in today's struggle b those who came to our soil and killed thousands of citizens on September the 11th, 2001. In an interview with a Pakistani newspaper after the 9/11 attacks, Osama bin Laden declared that "the American people had risen against their government's war in Vietnam. And they must do the same today."
Here's a trio of outstanding articles that underscore those points:

Maroons Rush In -- Mackubin Thomas Owens
The fact is that the outcome of a war is not predetermined. Who wins and who loses are determined in the final instance by the respective actions of the combatants. Victory or defeat depends on decisions actually made and strategies actually implemented. We came close to victory in Vietnam, but then threw it away...

This abandonment of our Vietnamese allies was a massive moral failure on the part of the United States. It is one we should not repeat in Iraq.
They Wait For Us To Run Again -- Mark Steyn
As the New York Times put it, "In urging Americans to stay the course in Iraq, Mr. Bush is challenging the historical memory that the pullout from Vietnam had few negative repercussions for the United States and its allies."

Well, it had a "few negative repercussions" for America's allies in South Vietnam, who were promptly overrun by the North. And it had a "negative repercussion" for former Cambodian Prime Minister Sirik Matak, to whom the U.S. ambassador sportingly offered asylum. "I cannot, alas, leave in such a cowardly fashion," Matak told him. "I never believed for a moment that you would have this sentiment of abandoning a people which has chosen liberty. I have committed this mistake of believing in you, the Americans." So Sirik Matak stayed in Phnom Penh and a month later was killed by the Khmer Rouge, along with about 2 million other people. If it's hard for individual names to linger in the New York Times' "historical memory," you'd think the general mound of corpses would resonate.
The Left Loses the Vietnam War -- Robert Tracinski
America's defeat in Vietnam... was seemingly a triumph for the anti-war left, which had long proclaimed the war to be unwinnable quagmire. Yet the years following that defeat -- the era of American retreat and "national malaise" -- proved so traumatic that the American people have never wanted to repeat them. Thus, what the anti-war radicals regarded as a vindication ended up discrediting the left on foreign policy for a generation. You could say that they won the political battle over the war -- but they lost the peace.

Today, we may be seeing the final chapter of that process. The left is losing the Vietnam War itself -- losing Vietnam, that is, as a rhetorical high ground from which to pillory any advocate of vigorous American military action overseas.
----------

August 8, 2007 -- Another anti-military fantasist bites the dust. The New Republic recently ran a series of "Baghdad Diarist" reports from an anonymous soldier in Iraq. Naturally, his accounts were filled with sickening tales of U.S. troops desecrating corpses, jeering at a female contractor whose face was "melted" by an IED explosion, and squashing stray dogs with Bradley fighting vehicles. Under pressure from critics, the magazine revealed the "diarist" as one Private Scott Thomas Beauchamp, whose wife just happens to work for the New Republic.

Military investigators reported that "the allegations made by Pvt. Beauchamp were found to be false. His platoon and company were interviewed and no one could substantiate the claims." Beauchamp himself signed an affidavit to the same effect, even as the New Republic continued to defend his reports.

Beauchamp, writes Michelle Malkin, is just one more example of Winter Soldier Syndrome:
Ever since John Kerry sat in front of the Senate Foreign Relations Committee and accused American soldiers of wantonly razing villages "in fashion reminiscent of Genghis Khan," the Left has embraced a small cadre of self-loathing soldiers and soldier wannabes willing to sell their deadened souls for the anti-war cause. Think Jimmy Massey, the unhinged Marine who falsely accused his unit of engaging in mass genocide against Iraqis. Think Jesse MacBeth and Micah Wright, anti-war Army Rangers who weren't Army Rangers.

Winter Soldier Syndrome will only be cured when the costs of slandering the troops outweigh the benefits. Exposing Scott Thomas Beauchamp and his brethren matters because the truth matters. The honor of the military matters. The credibility of the media matters. Think it doesn't make a difference? Imagine where Sen. John Kerry would be now if the Internet had been around in 1971.
There was a time when propagandists could tell gruesome lies about American troops and be widely believed.

It remains to be seen whether those days have come to an end.

----------

More: Former KGB chief Ion Mihai Pacepa offers additional insight into how the game is played.

Film producer Peter Rollins describes how the media intentionally misreported the 1968 Tet Offensive and notes the widespread use of similar disinformation regarding Iraq.

----------

July 5, 2007 -- Triumph Forsaken author Mark Moyar has a new article in NRO about how the false reporting of renowned reporters David Halberstam, Neil Sheehan and Stanley Karnow harmed the U.S. effort in Vietnam, and how they helped create the current journalistic standard of ignoring American military heroism while exaggerating U.S. mistakes and failures.
Halberstam, Sheehan, and Karnow inadvertently caused enormous damage to the American effort in South Vietnambmaking them the most harmful journalists in American history. The leading American journalists in Vietnam during 1963, they favored American involvement in Vietnam, in stark contrast to the press corps of the warbs latter years. But they had a low opinion of South Vietnamese president Ngo Dinh Diem and decided that he would need to be removed if the war was to be won. Brazenly attempting to influence history, Halberstam, Sheehan, and Karnow gave Diembs opponents in the U.S. government negative information on Diem in print and in private. Most of the information they passed on was false or misleading, owing in part to their heavy reliance on a Reuters stringer named Pham Xuan An who was actually a secret Communist agent...

Halberstam, Sheehan, and Karnow quickly realized that as advocates of Diembs ouster they could be held responsible for wrecking the South Vietnamese government, and so they devised a masterful strategy for neutralizing the accusation. Based on a few faulty pieces of evidence, they contended that the South Vietnamese war effort had crumbled before Diembs overthrow, not after it. No one of influence succeeded in pointing out that these menbs own articles in 1963 contradicted this claim. The journalists thus succeeded in persuading the American people that Diem, rather than his successors, had ruined the country, and therefore that the press had been right in denouncing him. Newly available American and Vietnamese Communist sources, it turns out, show that the South Vietnamese were fighting very well until the last day of Diembs life...

There was more damage to come, subtler in nature but still very toxic. When the American intelligentsia became disillusioned with Vietnam during the late 1960s, Halberstam and Sheehan abandoned support for the U.S. defense of South Vietnam. Like many journalists today, they avoided reporting on American military heroism in the belief that reports of American valor would increase support for the war in the United States and would put servicemen in a more favorable light than those who did not serve. We have these journalists, as well as historians, to blame for the fact that the pantheon of American military heroes is empty for the period from the end of the Korean War in 1953 onward. Of course, when one type of hero is rejected, another is usually inserted in its place. To the horror of many who served in Vietnam, Halberstam, Sheehan, and Karnow became heroes, as has been reflected in the obituaries for Halberstam...

The Vietnam-era journalists began a tradition that todaybs press all too frequently upholds. We hear little from most large press outlets about American heroes in Iraq and Afghanistanbmen like James Coffman Jr., Jason Dunham, Danny Dietz, and Christopher Adlesperger who have demonstrated extraordinary bravery in battlebor about our military successes there. Instead of associating the names of heroes with these wars, Americans associate the words they hear most often from the press, like Abu Ghraib and Haditha.
Dr. Moyar generously suggests the damage inflicted by Halberstam and others was "inadvertent." We're not so sure...

----------

May 20, 2007 -- Remember "Special Forces Ranger" Jesse MacBeth? Here's his interview from last year in which he told the credulous folks at SocialistAlternative.org about U.S. "war crimes" in Iraq. MacBeth was exposed as a fraud after he foolishly posted his DD-214 online, showing that he actually washed out of the Army in boot camp.

Now, MacBeth is back in the news, facing Federal charges for falsifying his record. Michelle Malkin has more, including a note that MacBeth's past criminal history includes "false emergency reporting, criminal trespass, domestic violence and fraud, and he is wanted by the Safford County sheriff's office in Arizona for illegal credit card use."

Once Special Ranger Jesse gets his legal issues squared away, maybe he should get together for drinks with former VVAW leader Al Hubbard. Seems like they'd have a lot to talk about...

----------

April 24, 2007 -- New in our Special Features section: Former Army criminal investigator James Reilley objects to Sen. Harry Reid's recent plea for defeat in Senate Majority Leader Harry Reid Said the Iraq War is "Lost."

----------

March 20, 2007 -- Here are some worthwhile articles on the successful Gathering of Eagles counterprotest in Washington on March 17:
Vietnam Vets Face Down The Moonbats
----------

March 15, 2007 -- Accuracy in Media has re-released Television's Vietnam, an excellent two-part documentary produced in the 1980s to counter the 13-hour pro-Hanoi PBS series "Vietnam: A Television History." Director Peter Rollins provides new video commentary for the film, which is narrated by Charlton Heston.

----------

March 10, 2007 -- WinterSoldier.com has been moved to a new server. Old links starting with the prefix "http://ice.he.net/~freepnet/kerry" will no longer work, but that string can be replaced with "http://www.wintersoldier.com" -- all the previous information remains online.

----------

March 7, 2007 -- The veteran counter-protest against ANSWER and other antiwar groups at the Wall in Washington is just ten days away. See Gathering of Eagles for the latest information.

----------

February 26, 2007 -- Here's an excellent rebuttal to the false claim that the Vietnam War was a "civil war":

Two Sides to Every Story -- Quynh Dao.

----------

January 30, 2007 -- True colors, episode one: Remember how Jane Fonda insisted in 2004 that she had nothing to do with John Kerry during her pro-Hanoi days? Never mind that she was the primary financial sponsor and honorary chairman of the Vietnam Veterans Against the War's "Winter Soldier" war crimes propaganda hearings while Kerry was a top leader of the organization. Or that she toured college campuses to raise funds for the VVAW and touted the group on the Dick Cavett Show. Nope, Hanoi Jane told CNN in early 2004 that "Any attempts to link Kerry to me and to make him look bad with that connection is [sic] completely false."

Now, however, John Kerry's presidential dreams have gone a-glimmering. So Hanoi Jane felt free to dig out an old VVAW button to wear as she exhorted her aging comrades at a Washington rally on Saturday.

True colors, episode two: Meanwhile, Senator Kerry quickly returned to doing what he does best - trashing his own country. In Davos, Switzerland, Kerry called America an "international pariah." He went on to complain that his countrymen have an "unfortunate habit" of seeing the world "exclusively through an American lens."

We, on the other hand, think that seeing the world through an American lens is greatly preferable to seeing it through the lenses of the North Vietnamese, French Marxists, the Sandinistas, and the Iranian mullahs.

----------

January 24, 2007 -- The Boston Globe reports that John Kerry will not run again for the Presidency in 2008.

This is an uncharacteristically wise and prudent decision on the part of the Senator, and we applaud it.

----------

January 1, 2007 -- Here's a slightly late Christmas present from WinterSoldier.com.

----------

This is a tactical handbook. everything in this handbook is as tactical as an "op plan" or the manual on the Marine Rifle Squad.

As this is being written we are involved in a war. Time is precious. We want to hurry to get every job done right away. But this part of the war takes time.

In a real way this is the war. It is a war for people. It is a war in behalf of people and a war for their allegiance. Unless this war in won, our strategic victories could be worth very little.
-- Introduction, Marine Unit Leaders Handbook (NAVMC 2616)
----------

In October 1967, the U.S. Marine Corps published and distributed a remarkable training booklet intended to help Marine unit leaders to fight and win the "other war" in Vietnam -- winning the lasting friendship and willing cooperation of the Vietnamese people. Created by three chaplains at the request of Gen. Victor Krulak, this little-known document shows how the Marines worked to incorporate respect for local people, their habits, and their customs into counterinsurgency operations. Using a down-to-earth, case-by-case approach, the Handbook provided vital information about the attitudes, culture and religious beliefs of the Vietnamese.

Nearly 40 years later, this booklet gives valuable insight into what was expected of Marine leaders in Vietnam. It also refutes the false claim made by the Vietnam Veterans Against the War and others that the U.S. military taught hatred of the Vietnamese as part of a war of racist genocide. Although its situational examples are specific to Vietnam, the larger lessons the Handbook teaches are as relevant today as they were in 1967.

Marine Unit Leaders Handbook [PDF: 8.3MB]

Give the file a little time to download. You'll find it worth the wait.

----------

Go to Page 2 of "What's New"